Caravan Gas Safety Certificate
Caravans and Camper trailers that are fitted with brakes will require a Roadworthy Safety Certificate and a Caravan Gas Safety Certificate to transfer registration in Queensland QLD. If you are registering a Caravan or camper trailer in Queensland you will need a roadworthy RWC safety certificate and Caravan Gas Safety Certificate to apply for Queensland QLD registration.
Does your caravan comply?
Is there a compliance label fixed to the caravan in a visible location?

The compliance label is a statement from the gas fitter confirming compliance with regulatory requirements.  It includes additional important information such as gas fitter's details, Notice of Completion number and installation date.
The customer should also receive a copy of the Notice of Completion specifying that the work complies with the regulations.

Does the caravan have adequate fixed ventilation?  Ensure these ventilation openings are never blocked off.
High pressure appliances (camping and portable equipment) are not permanently installed in a caravan.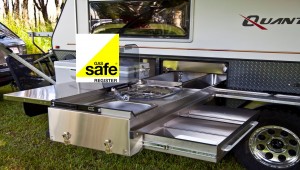 For further information give John Waston Plumbers a call